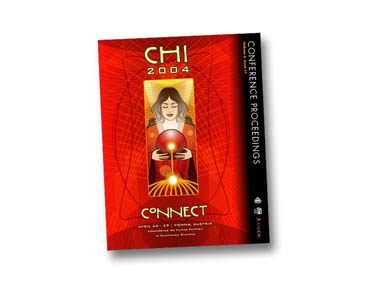 CHI2004 Proceedings Print Version - Price $50
Available only through online ordering. Contains the CHI2004 Proceedings only.
CHI2004 Proceedings print version is not available on site at the conference.Your book order will be delivered to the address you specify on your registration form.
Please note: A print version is not included in your CHI2004 registration fee. Copies are not available on site at the conference. CHI2004 Proceedings print version can be ordered through conference registration or through ACM e-store.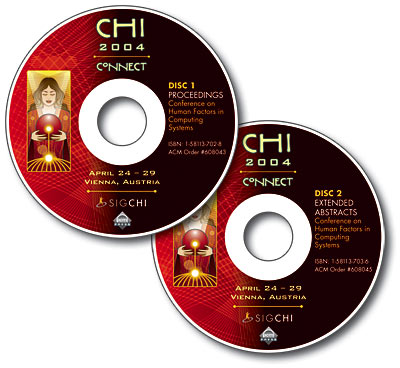 CHI2004 Conference Disc - Price $30
The CHI2004 Conference Disc contains two volumes: CHI2004 Proceedings, and Extended Abstracts. Indexed and cross-linked, this disc is the complete reference to published conference submissions including video clips.
Please note: One copy of the CHI2004 Conference Disc is included free with your registration fee. Limited additional copies are available on site at the conference.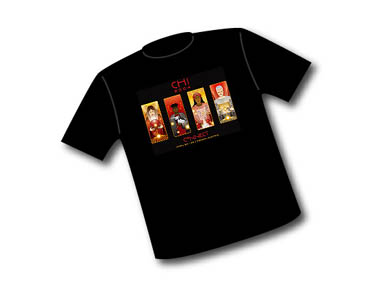 CHI2004 Men's T-shirt - Price $20 - Sizes: M, L, XL
Your essential conference t-shirt! Constructed from 6.1 oz. heavyweight 100% cotton, this t-shirt will wear well and retain its brilliant colors after multiple washings.
Image detail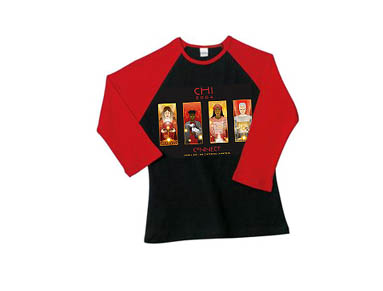 CHI2004 Women's T-shirt - Price $23 - Sizes: M, L, XL
Connect style and fit with this 3/4 sleeve raglan colorblock athletic style t-shirt. Made from 5.8 oz. combed cotton, this ladiesí shirt is well-constructed with a custom contoured fit. Show your support for CHI2004 with this first-ever two-toned T for women.
Image detail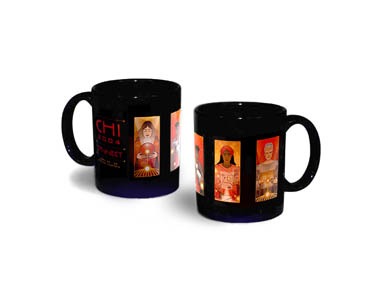 Coffee Mug - Price $15
This great 11 oz. glossy black coffee mug sports our CHI2004 logo and artwork. Add to your existing CHI conference mug collection or start with this one Ė itís a beauty and itís microwave safe.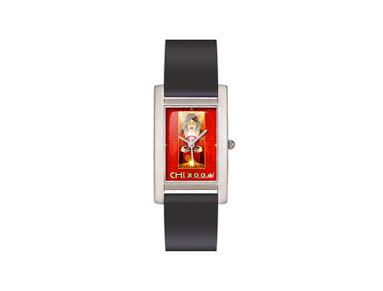 Special Edition CHI2004 - Watch Price $39
Run on CHI Time with our analog unisex watch with the CHI2004 imprinted dial. The case is alloy metal with a matte silver finish, and a matte black faux-leather band.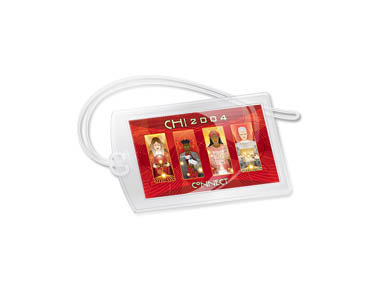 Clear Acrylic Luggage Tag - Price $2.50
Tag your bags in style with this substantial unbreakable clear acrylic luggage tag with ID card and vinyl loop strap. Fill out the card's reverse side or simply insert your standard-sized business card and away you go!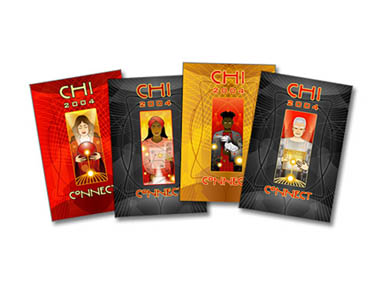 Art Card Set (4 Cards) - Price $5
"Greetings from Vienna!"
Post your memories on 4 high-quality glossy postcards, ready to affix postage and mail.
Image detail for back of cards (all cards are the same).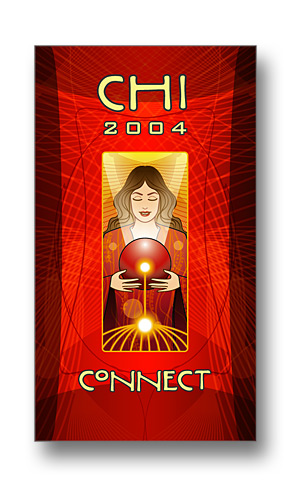 Art Poster - Price $35
We received so many requests for posters we decided to offer this frameable art poster in vivid hues. Pick up your poster at the conference in a durable compact tube, convenient for mailing home or tucking in your luggage.